Active voice in writing is a powerful driver of student revision.
When I sit shoulder-to-shoulder with a student writer during a check-in conference, 76.45% of the time (highly-scientific calculation) when a sentence reads clunkier than a car with square wheels it's because the student has no idea how to use active voice in writing. 
As language becomes increasingly more flexible and informal, I see students struggle more and more with using active voice in writing.
So how can we fix this for our student writers? Let's jump in.
Active vs Passive Voice in Writing
In order to help students correct their errors, we first have to establish the difference between active and passive voice.
Active voice is easier. When we hear or read a sentence correctly written in active voice, it makes sense to us. So, let's start there. Simply put, in active voice sentences the subject is doing the action.
Conversely, in passive voice sentences the action takes the place of a subject. This changes the focus of the sentence. It's this shift in focus that causes trouble in clarity for our budding writers.
Active Voice in Writing Examples
Definitions are great, but let's take a look at some examples (feel free to snag these and use them as mentor sentences in your next mini-lesson on active vs. passive voice!).
Active voice examples:
50% of students failed the midterm.
Bob got the job after four rounds of interviews.
The captain threw out the anchor just in time.
Becky no longer works there.
The editors completely changed the movie before the premiere.
Megan made the phone call.
Passive voice examples:
The midterm exam was failed by 50% of students.
The job went to Bob after four rounds of interviews.
The anchor was thrown out by the captain just in time.
That is no longer where Becky works.
The movie will have been completely changed by editors before the premiere.
The phone call was made by Megan.
When to Use Active Voice in Writing
Ronald Reagan famously said, "Mistakes were made." This quote, while true about the use of passive voice in writing, is ironically an example of passive voice that works just fine.
So, is it always wrong to use passive voice? How do we know when to use active voice in writing?
As with any "rule" related to grammar and composition, there's not one clear-cut answer here.
Generally speaking, using the active voice writing style is clearer for most audiences. However, there are times in which a writer may choose to break this "rule" for rhetorical purposes.
Passive voice is used when the subject is unknown. For example, there may be times when a writer truly doesn't know who is taking action and the "doer" can't be named. For example, you may write in an incident report at school, "The phone was stolen" because you do not know who stole it.
Passive voice is often used in scientific writing. Often the subject is unknown, obvious, or unimportant. Sometimes the writer may choose to omit the subject altogether in the interest of reducing impressions of bias and creating objectivity. The purpose of scientific writing is to highlight the action rather than who is performing the action, and so writing with passive voice style can work well in this discipline.
Fiction writers may use passive voice to shift focus from the subject to the action. This shift in focus can create a mysterious or ominous mood.
But in nonfiction writing, readers don't really want their reader to feel a sense of mystery and more often than not, the subject of the sentence actually is quite important and therefore it is generally best practice to use the active voice writing style.
What Are Buried Verbs and Zombie Nouns?
Buried verbs and zombie nouns sound like something straight out The Walking Dead.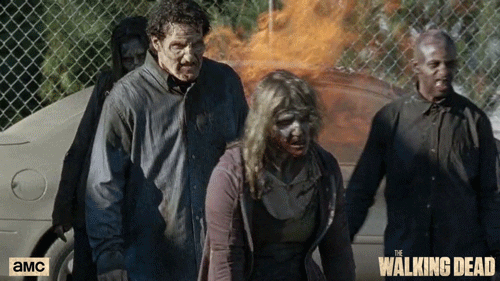 And while they can definitely be scary when they make an appearance in a student's writing, luckily for composition teachers, they're much easier to kill than the living dead.
Buried verbs are verbs (and sometimes, although much less frequently, adjectives as well) that have been unnecessarily turned into noun expressions.
They tend to sound smart, but they simply wind up clouding meaning and weakening writing. Think "she has intelligence" versus "she is intelligent," or "I had gone to the store" versus "I went to the store."
Buried verbs and zombie nouns often like to hang out with one another. Maybe it's something about being dead? I dunno. Both make things wordy and awkward.
Zombie nouns are nouns formed from other parts of speech. You might know them by their much less fun-to-say title: nominalizations.
Those in fancy schmancy roles like politics, law, and business looooove a good zombie noun. And those fancy schmancy people often use them to help describe abstract concepts and it works for them. The problem, though, is the lifeblood of zombie nouns = verbs. They snack on them until there's nothing left and suddenly it's impossible to tell who is doing what in the sentence.
Zombie nouns are pretty easy to spot because they have telltale suffixes like –ity, -tion, -able, -ance, -ness, and -ism. Once the zombie nouns have been spotted, they must be killed before they eat up all of the verbs.
To kill zombie nouns, coach students to:
Find a shorter and/or simpler noun
Use a new verb
Move the subject and verb closer together within a sentence
If a zombie noun must be kept, don't use a buried verb
Think:
Discussed instead of Participated in a discussion of…
Reduced… instead of Caused a reduction in…
Analyzed instead of Conducted an analysis of…
Explained instead of Provided an explanation of…
How to Use Active Voice in Writing
Here are some tips to help coach students to rewrite their sentences from using passive to active voice in writing:
A passive sentence usually contains some form of "to be." Spot the conjugation of the verb and you can identify the passive voice.
The subject or "doer" is often at the end of the sentence. Check the placement and reorder if necessary.
Passive voice often uses the phrase "by the…". Remove this portion of the sentence and rework so the actor in the sentence comes first.
Specify the subject or the "doer" in the sentence. Unless rhetorically necessary, don't leave the subject anonymous.
Make sure the object of the sentence comes after the verb.
Remove any unnecessary wordiness, zombie nouns, and buried verbs.
Wrapping Up
Practice makes perfect and it'll take students several rounds of practice to get the hang of using active voice in writing. Gallery walks of student writing, mentor sentences written by expert authors, modeling revising sentences written in passive voice in your own writing, and games like the flyswatter game or a scavenger hunt can make practicing fun and relevant!
---
I know how hard it is to do all the things as an English teacher, so I'm excited to share some of my best strategies for reducing the grading overwhelm.