I have been creating digital resources and Google Slides teaching templates for English teachers for about four years now. I remember the first time I created an activity for Google Classroom. I had just returned from maternity leave to find that my maternity sub had been gifted with a cart of laptops. 
Great, I thought! I don't have to fight for time in the LRC anymore.
Little did I know that being 1:1 would mean more than having easy access for students to type their essays.
It was the beginning of a transformation.
In my teaching.
In my thinking.
In my classroom management.
Now, slow your roll. I know what you're thinking…no no no, a million times no, technology does not equal engagement, and it sure is not the magical cure-all. In fact, the more technologically-savvy our students become, the more our "cool" activities become background noise.
It's never just about technology.
But it is about technology PLUS relationships…and sound pedagogy…and innovation…and authenticity…and rigor…and and and.
Technology is a tool, so let's learn a few ways to harness it, shall we? 
In this post, we'll be talking about digital resource creation, specifically how to create google slides teaching templates. For teachers, knowledge of the creative process can help them to re-imagine their classroom activities.
How to Design Google Slides Activities
Designing a Google Slides activity begins with a great idea and end goal.
Step #1: Ask yourself: what do I want my students to know and be able to do?
Now that you have an idea, you may want to sketch it out.
Step #2: Choose a platform to create your background.
The two I recommend are PowerPoint or Canva.
Step #3: Set the size of your working space. If you want it to be regular notebook paper sized, then 8.5 x 11 is your goal.
Step #4: Create the background with shapes and/or text boxes. Add color if you choose – that's part of the fun with creating digital products.
Step #5: When your background is looking the way you want, download the slide as a PNG.
Step #6: Insert the PNG as a background image in a Google Slides presentation.
Step #7: Overlay text boxes for students to type into, videos, etc.
Voila! Your Google Slides activity has just come to life!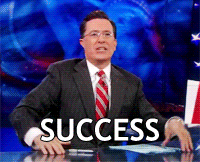 5 Ways for English Teachers to Use Google Slides Templates
Now that you have created your first Google Slides activity, all you have to do is assign it to your students via Google Classroom.
I find that Google Slides activities are versatile enough to be used in different ways.
Here are five of my favorite ways to use Google Slides templates for teachers:
➡️ Create an exit/entrance ticket slideshow and assign it at the beginning of each week. Have students complete one slide per day as a way to check-in on their learning and progress. You can easily drop learning targets in each slide aligned with your plans for the week. Or, better yet, have students do this!
➡️ Create a graphic organizer that is 11×17. I like to use a lot of different shapes and create a flowchart, especially for essay mapping. This way, students have all of their brainstorming in one place. You can always offer students a choice between using a paper organizer or a slides one. I find that 80% of my students prefer the digital slide vs. the paper organizer.
➡️ Host a four-wall discussion. Create a background that asks students to drag-and-drop different statements and reflect prior to discussion.
➡️ Journaling. I love Google Slides journals because I can integrate multimedia and visuals on each slide. This makes it possible to differentiate and also easy for students to complete independently. On any given day, I have at least two or three absent students, and in the past it has been hard to catch them up. Not with Classroom and digital journaling.
➡️ Hexagonal thinking is super fun with Google Slides. Simply use the hexagon shape and have students map ideas to show their thinking.
Ready-Made Google Slides Templates for Teachers
If you are interested in some pre-made templates to get you started with digital resource creation, you'll want to add these to your cart:
Grab them here from my web store: https://lindsayannlearning.com/product/google-slides-templates-for-digital-learning-activities/
Or here on Teachers Pay Teachers: https://www.teacherspayteachers.com/Product/Google-Slides-Templates-for-Distance-Learning-Resources-3955430
---
Hey, if you loved this post, I want to be sure you've had the chance to grab a FREE copy of my guide to streamlined grading. I know how hard it is to do all the things as an English teacher, so I'm over the moon to be able to share with you some of my best strategies for reducing the grading overwhelm.
Click on the link above or the image below to get started!