Are you looking for a refresher on how to use backwards planning for instruction? This blog post will walk you through my thought process in designing a unit for high school sophomores. It won't be a bunch of detailed diagrams and calendars (because you can find a UBD textbook for that). Instead, I want to focus on providing a practical narrative of what I do so that you can be encouraged to kick-start your own planning.
What is Backwards Planning?
Have you ever planned for the most epic vacation ever?
Do you just throw a bunch of random items in a suitcase an hour before the plane takes off?
Not likely.
Will you get to the same destination as the family with an impeccable itinerary and thoughtfully-packed luggage?
Yes.
Will you have the same travel experience?
Probably not.
After all, you didn't dress appropriately for travel, had to reschedule your flight due to lines at check-in, didn't pack necessary items (sunscreen, camera, phone charger, and comfortable shoes to name a few), and didn't know the best attractions and locations to visit during your trip so you found yourself lost most of the time and relying on the word of the hotel concierge.
➡️ Backwards planning is like having a travel agent to plan out all of the details of your trip, including a detailed itinerary AND/OR a hyper-organized family member who creates lists and helps you pack what you need and get to the airport in time. Without this important preparation, you'll feel unprepared, behind schedule, and not sure if you're going in the right direction.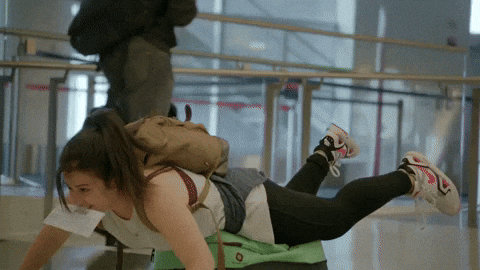 Backwards Design Lesson Planning Overview
First, you fill in the broad strokes, and then you get more and more and more detailed. Start with the unit goals/skills, then break them down into steps with formative assessments. Then, once you have the framework for student learning, plan the lessons/activities that will help students to reach those bigger goals.
Tip: Try using post-it notes to mind map a unit. I like to draw it out. You might also use MindMeister or Trello.
Using the backwards planning model, on a small or large scale, I always begin with the end in mind. What do I want students to know and be able to do? What is my goal for this unit or this lesson?
Then, I ask myself what format would be best for achieving that goal:
I want to make sure that I'm not using the same strategies and activities over and over. (This gets boring for anyone, not just students.) Novelty is important.
I also want students to be active and to have choice (if possible). Student voice is important.
I want to make sure that I'm using technology in ways that enhance instruction. 21st century skills are important.
Finally, I want to choose strategies and activities that are challenging students as learners to meet my goals. Design is important.
All of these combine to create synergy.
Designing an Inquiry Unit
The first stop in my unit planning is to do a brainstorming session (usually with the most awesome PLC members around). Here is our brainstorming session from the end of the school year as we planned for the first semester.
We knew that we wanted to change our main text for the first quarter to Born a Crime, and we knew that this unit would lead into an inquiry unit. What we didn't know was how everything fit together and with the skills we needed to assess.
So, our focus for the whole YEAR was "challenging messages."
1st Quarter = Social Criticism Exploration (broad focus on many issues, texts)
2nd Quarter = Inquiry-Based Social Criticism (narrow focus on ONE issue)
3rd Quarter = Critiquing a Literary Critic
4th Quarter = Finding Your Voice / Message
The skills that thread through the year are:
From here, we narrow even further.
How do these skills align over the course of the quarters?
How do these skills develop, from formative to summative over the course of each quarter?
What summative assessments are appropriate and engaging for students? How can those be scaffolded from quarter to quarter?
Backwards Planning Example
So, for the sake of example let's talk about one skill: speaking.
➡️ My team decided to focus on building student talk with Harkness and TQE discussions during quarter one. From there, students would, during the second quarter, be participating in breakout sessions depending on their inquiry questions and interests. They would also be presenting at a "trade show" of ideas, making the presentation interactive with their audience members. During 3rd quarter, students would be assigned a specific chapter or chapters from Their Eyes Were Watching God and prepare to be a discussion leader for a small group of their peers. Finally, in the fourth quarter, students would perform a slam poem.
➡️ Each of these quarters then needed to be scaffolded individually. And, then, some of the skills intermingled. For example, use of textual evidence is a part of 1st and 3rd quarter assessments while 2nd and 4th quarter assessments are speaking as a result of student inquiry and writing.
➡️ During the first quarter, we knew that students would need practice with question generation skills, choosing quality textual evidence, and building conversation with their peers (paraphrasing to check for understanding, text-based conversation). We focused on building these skills through informal conversations about Born a Crime and use of a Harkness placemat, as well as student reflection on formative recorded discussions via screencast and Flipgrid.
➡️ After the skeleton of formative assessments, summative assessments, and scaffolded skills is in place, the lesson planning happened on a week-by-week basis. Again, for this I start at the end and work backwards to make sure that everything aligns.
➡️ On a practical level, this is when I backwards plan by the number of weeks I have available. I map out, starting with the summative assessment, how many instructional days we will spend, and keep backwards planning from there.
Questions about Backwards Planning?
What units are you excited to backwards plan? Please leave a comment; I'd love to hear what you're working on!
---
Hey, if you loved this post, I want to be sure you've had the chance to grab a FREE copy of my guide to streamlined grading. I know how hard it is to do all the things as an English teacher, so I'm over the moon to be able to share with you some of my best strategies for reducing the grading overwhelm.

Click on the link above or the image below to get started!